Temporary Low Ropes Package
The temporary low ropes kit is a mobile, portable and cost effective solution and a great alternative to a permanent course.
---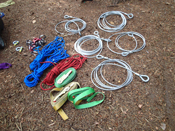 Unlike a permanent course, the temporary package allows you to construct your own activities, create greater user engagement and design your own activities to meet specific learning objectives and so much more!
It's cost effective, allowing you to add and renew components, there is no formal site inspection required, giving you a greater choice of sites and venues.
It costs from £3,750 plus VAT and includes:
Full set of equipment;
Manuals, plus 3 days of training for up to 12 people;
ERCA Temporary Low Ropes Instructor and Constructor Qualification;
Continuous support for one year.
If you'd like further information or want to place an order then use our Contact Us page, or give us a call on 01929 480 920.