Our Philosophy
Vertex is dedicated to developing, supporting and inspiring our industry by working in partnership with our clients to deliver a first class service to your customers.
---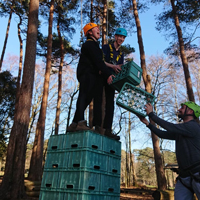 Did you know that more than 13 million people access ropes courses, adventure parks and zip wires each year in the UK? It could be in a forest, deep inside an underground mine, a holiday park, shopping centre, pier or as part of a pupil's residential trip to an outdoor centre or for team building exercises.
Traditional ropes courses have been around for a long time with the original focus being on a person's physical rather than intellectual development. Over the years this focus changed and with the development of construction techniques the emphasis moved towards using courses as a learning and development tool. It's well known within the industry that although there is a perceived risk by the user(s), they are in fact, in a safe and controlled environment and research has shown that when people experience this type of risk, great personal achievements and changes can happen - changes that can last a lifetime.
Vertex, through its training programmes, seeks to encourage instructors to understand this concept. It encourages them to see that a group or an individual's experience on a course can achieve positive outcomes including improvement in self-efficacy, self-awareness, trust and teamwork.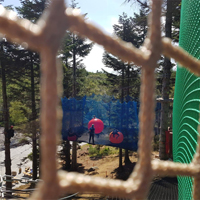 In recent years there has also been an explosion in the number of more commercially based operations. They can been found at leisure centres, shopping malls and holiday resorts. For these operators the emphasis is less on the learning outcomes that can be achieved and more about the thrill of zipping over lakes and walking in the trees.
Vertex works with commercial owners and operators on the basis of 3 main principles: Safety, Efficiency and Customer Experience. We will work with you to ensure that you are confident that your facility and instructors are operating as safely and efficiently as possible ensuring that your clients have the best possible experience.
But don't forget, whether you are a commercial operator or an outdoor centre, there is always the potential to encourage interaction amongst users, creating an environment where people communicate and are reliant upon one another. This can often have a positive impact on someone's life beyond their time spent on the course.