Papertrail
Papertrail is a web based safety management system, for managing safety of equipment in an easy and efficient manner.
---

Papertrail is designed for organisations who need to comply with LOLER, PPE and PUWER legislation, and provides huge efficiency advantages in this respect.
Papertrail is used by local authorities, adventure activity centres, arborists, climbing walls...the list goes on!
The Vertex team is using Papertrail to manage inspections of all the critical safety equipment at Burnbake, and as Papertrail Certified Advisors, we will be assisting with the set-up of new Papertrail accounts for ropes courses in the South of England.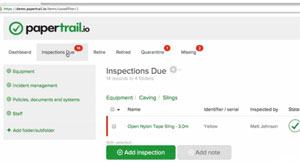 Papertrail's roots are in outdoor education and adventurous activities.
As outdoor practitioners, the two co-founders experienced an increasing issue with HSE record keeping and staying compliant. Before Papertrail, there were no alternative systems available rather than paper records or a spreadsheet for managing safety of equipment.
If you would like to find out more about papertrail, see their website page: 'The Features of Papertrail' to get an idea of what it can be used for.