Press Release: Vertex in Lesotho with Sentebale Charity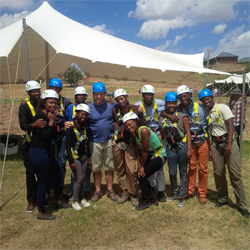 Steve Woods was at the official opening on Thursday 26th November, attended by Prince Harry, of the new Mamohato Children's Centre in Lesotho.
Steve, who has trained thousands of instructors around the world, said "We were asked to provide ropes course instructor training to some of the volunteers at the centre. Their new ropes course is the perfect environment for the children to explore their emotions, nurture and develop relationships with their friends and their communities and to create lasting networks of support, trust and shared safety. As a business we decided to make the choice to provide opportunities for the volunteers and children of the Mamohato Children Centre. As such we are committed to supporting the charity by providing free training to its volunteer instructors and consultancy to the centre."
The centre is run by the charity Sentebale which was founded by Prince Harry and Prince Seeiso of Lesotho. The charity is committed to helping children living in extreme poverty and affected by the HIV/AIDS epidemic in Lesotho.
The new centre and its facilities will enable Sentebale to reach many more children living with HIV as well providing outdoor facilities including a new ropes course where children can learn confidence, self-esteem and working as a team.