Industry Day - "Safety....at the Heart of Adventure"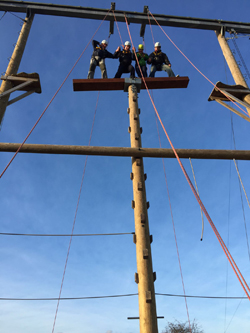 Vertex is pleased to announce the second industry day for those involved in ropes courses and adventure parks. Whether you're an owner, operator, builder, inspector, trainer or instructor, this will be a worthwhile day to attend. This year's event is titled: "Safety……..at the heart of adventure"
Over the last 5 years the majority of accidents, incidents and near misses have been as a result of human error. We are delighted to be bringing together 3 experts in their respective fields who will be sharing their knowledge and expertise so we can continue to improve safety across all our facilities.
Tim Morton - Senior Inspector, Adventure Activities Licensing Service
Many of you will already know of or have met Tim. He will be looking at human error and accidents, HSE/EHO Accident investigations & Outcomes.
Dr Georgina Fletcher – Doctor in Human Factors and Ergonomics
Georgina is a highly regarded professional and speaker within the aviation, defence and heath care sectors. She is an expert in Human Factors and Ergonomics. She will bringing her experience of the developments within these industries relating to the improvement of quality and safety and how the ropes course industry can apply these to our facilities, staff and customers.
Oliver Auston - Managing Director at Checkmate Lifting & Safety Ltd
Oliver and Checkmate are one of the leading innovators and manufacturers of height safety equipment including the Xplorer harness. Oliver will be speaking on designing equipment for our industry that is safer, easier and better to use. This is a great opportunity to share your wish list for the equipment of the future with one of the world's most innovative safety companies.
The day will be £45 per head (excl VAT) and will include refreshments and lunch. The venue can accommodate a maximum of 100 people so places will be allocated on a first come, first served basis.
Call us on 01929 480 920 if you'd like to book your place